PrePOPsterous™ Subscription Box
FOR A LIMITED TIME ONLY
(Order deadline: July 15th)
We know…this is PrePOPsteorusly amazing!
We're excited to share this new offering that we've been popping up behind the scenes for a while. This is the perfect opportunity to try out several of our flavors in a variety of size over three months.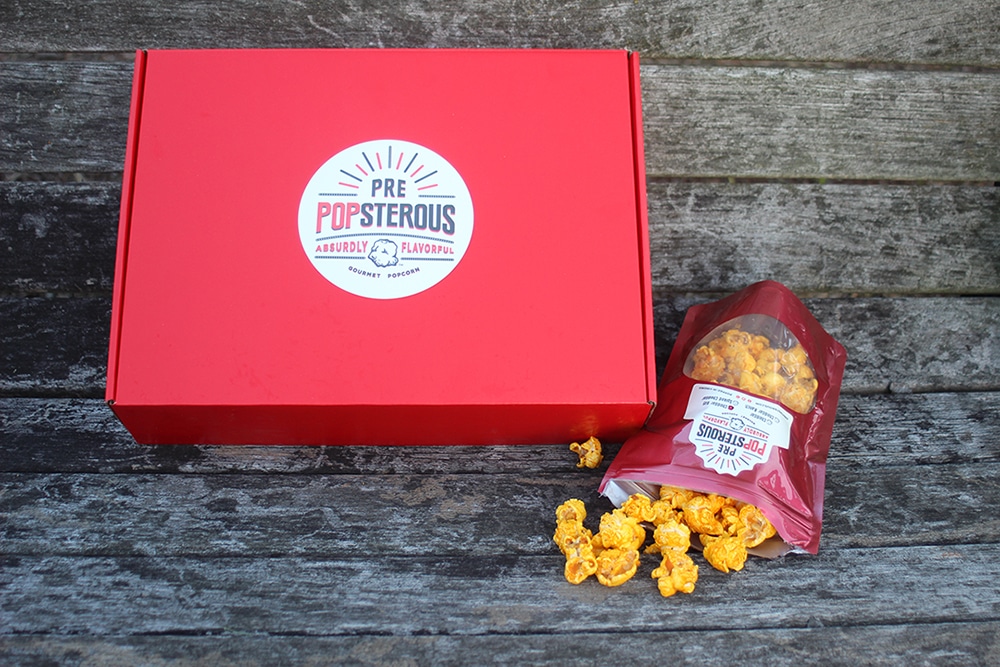 How it works
This is a limited time offering with our inaugural pricing of $20.18 per box! You'll pay a one-time subscription fee of $60.54 (plus tax). Starting in July, and for three consecutive months, you will receive a subscription box filled with a decadent sampling of sweet and savory flavors to delight your taste buds!
What's included
Each month our popcorn experts will fill your box with a medley of flavors in a variety of package sizes and complementary mixes. Sizes may range from our smallest sample bag to our large sharable bag, with a few sizes in between. We'll be sure to include our top sellers, some specialty flavors, and a new flavor or two.
When and how will I be billed?
You are purchasing a 3-month subscription box for our inaugural price of $20.18. When placing your order, you will pay a one-time fee of $60.54 + tax.
Can I preference which flavors I want in my PrePOPsterous™ Box?
We promise you'll be PrePOPsterously excited about the Absurdly Flavorful™ selections in your box. You'll receive a complimentary mix of sweet and savory flavors. What we can tell you for certain is that you will receive all of our signature flavors (Absurdly Caramel, Absurdly Cinnamon and Absurdly Cheddar), a variety of sizes, and at least one new flavor we are releasing in our subscription box before it's available for sale on our website!
When is the popcorn made and how long will it stay fresh?
Our freshness policy ensures that our Absurdly Flavorful™ Gourmet Popcorn is no more than two days out of the kettle before it is shipped. All of our flavors are packaged in heat sealed bags that protect the tender kernels from extreme temperatures and humidity, thus ensuring maximum freshness for weeks until you are ready to dive in. Did we mention our bag is resealable? If you don't want to eat the whole bag in one sitting (we promise, it's pretty tempting!), you can reseal the bag to maintain freshness for a few more days.
Can I send a gift subscription?
Absolutely PrePOPsterously YES! Our subscription box would make a great gift to a loved one, colleague, teacher, new mother, hair stylist…really, we can't think of anyone who wouldn't love some Absurdly Flavorful™ Gourmet Popcorn! Just include a note in the comments when placing your order and we'll be sure to let the recipient know who sent the gift.
How much is shipping?
$FREE! How's that for a great deal?
When will my PrePOPsterous™ Box be shipped?
All subscription boxes will be shipped between the 25th and 30th of each month. Your subscription will be shipped via USPS.
What is your refund or exchange policy?
If we've made an error in processing your order that warrants a refund, we will happily issue you a refund. There are no refunds for subscription boxes unwanted by you. Due to this being a food product and for health code reasons, we are unable to exchange products of flavors once you have received them.
What is your cancellation policy?
Your PrePOPsterous™ subscription will end upon receiving your third box. We will not automatically renew subscriptions since this is a limited time offering, so there's not need to remember to cancel your subscription. We promise to offer the subscription again, at which time you can place a new order.