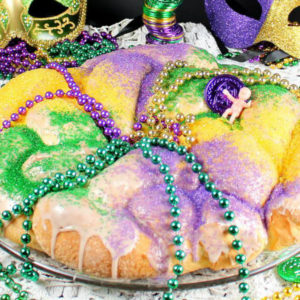 If you are not familiar with the traditions of Mardi Gras you are probably wondering what the fuss is about, and why people keep talking about a "King Baby" or "King Cake".  Before we reveal the meanings of the King Baby, let's get a little background on Mardi Gras.
Mardi Gras
Mardi Gras is different things for different people. For some it's an event, a state holiday, a piece of history, a parade, or a way of life. If you think it's all booz and indecent exposure; think again. Mardi Gras is a tradition that dates back thousands of years to the pagan celebrations of spring and fertility. As Christianity grew in Rome, religious leaders decided to incorporate the local traditions as a prelude to Lent. So technically Mardi Gras is more than a day, but rather a season that starts before Ash Wednesday and ushers in the 40 days of fasting and good behavior before Easter Sunday.
King Cake
Over the decades, New Orleans and other French settlements added to the holiday with masked balls, street parades, and fancy dinner parties. And because a party isn't a real party until you have cake; the formation of the King Cake tradition. The oval-shaped treat is consumed by partygoers between January 6th, known as King's Day or the Twelfth Night, and Fat Tuesday. But that's not all… there's a baby baked inside (or later put inside). Going along with the Christian faith, Jesus showed himself on the Twelfth Night, thus the start of Mardi Gras Season and the baby inside the cake. However, people have different beliefs of what it means if you find the baby inside the sweet dessert…
You will experience good luck

.

The lucky individual who scores the piece of king cake with the baby inside is said to gain favor in the year to come.

You will have a baby.

Simple, but some believe fertility is on your side and finding the baby means you will become pregnant.

You have to buy (or make) the King Cake next year.

Probably the most common belief is that if you find the baby in your slice of cake,  you must

provide the king cake for the next gathering of the season.
What do you think finding the baby means? Happy Mardi Gras Season!